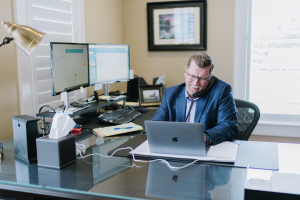 No matter the circumstances, losing a loved one can bring tremendous pain. The pain and suffering can be unbearable if they pass away because of someone else's negligence or wrongful act.
At Good Guys Injury Law, our compassionate and experienced Utah wrongful death attorneys understand the emotional turmoil you're going through, and we're here to help you seek justice for your loss.
Just because your loved one passes away doesn't necessarily mean a wrongful death event has occurred; however, it is important to investigate the circumstances thoroughly. Our Utah wrongful death attorneys have unparalleled experience handling wrongful death cases. We can put that experience to work for you by filing a wrongful death suit.
Learn more about what defines a wrongful death in Utah, and contact us today to schedule a free case consultation.
How Our Utah Wrongful Death Attorney Can Help You

Our experienced wrongful death attorneys will work tirelessly to ensure you receive the compensation and justice you deserve. We are here to provide you with compassionate support during a difficult time and provide every case the attention it deserves.
Our Utah wrongful death lawyers can help you in many ways. Some of the ways that we can assist you with your wrongful death claim include the following:
Investigate the circumstances surrounding your loved one's death.
Identify the responsible parties.
Collect and analyze evidence to build a strong case.
Negotiate with insurance companies on your behalf.
Represent you in court, if necessary.
We are dedicated to providing you the support and guidance you need during this difficult time. You should spend your time honoring the memory of your loved one, and that means you should depend on us to handle all of the legal issues. We will get to the bottom of exactly what happened to your family member, friend, or loved one, and if necessary, we will provide you with representation in court.
Common Causes of Wrongful Death in Utah
Wrongful deaths can occur in various situations where someone's negligence or wrongful actions lead to another person's death. Some common causes of wrongful death in Utah include:
Car accidents: A motor vehicle accident can result in a wrongful death situation. Everyone who gets behind the wheel of a car has a duty of care to everyone else on the road, and if your loved one is killed in a car accident, it could be a wrongful death situation.
Truck accidents: Truck accidents are always serious because of the sheer size of trucks. It is not unusual for someone to suffer catastrophic injuries in a truck accident, some of which could be fatal. The truck company, truck driver, truck manufacturer, and truck maintenance organization could all be liable for the accident.
Motorcycle accidents: Every motorcyclist should wear a helmet, but even if you take all appropriate precautions, motorcycle accidents can still be fatal. If your loved one was killed in a motorcycle accident, we can investigate the circumstances and see if a wrongful death situation exists.
Medical malpractice: The overwhelming majority of doctors will always go the extra mile for their patients, but there are some situations where medical malpractice could lead to a wrongful death. We can investigate the circumstances and see if medical malpractice played a role, potentially filing a claim for medical bills as a part of your wrongful death settlement.
Defective products: When you purchase a product off the shelf, you expect the manufacturer and developer to provide you with a safe experience. If a defective product kills your loved one, it could be a wrongful death situation.
Workplace accidents: While you probably do not expect to get injured when you leave for work in the morning, accidents can still happen occasionally. In some cases, workplace accidents could even be fatal.
Pedestrian accidents: If a pedestrian is struck by a car, it could lead to potentially fatal injuries. We can investigate the circumstances of the accident and see if a wrongful death situation is present.
Nursing home abuse and neglect: When we can no longer provide appropriate care for our loved ones, we often turn to a professional nursing home for help. We expect nursing homes to provide our loved ones with the same level of care and support as we do, and when they fall short, it could lead to wrongful death.
These are just a few of the most common types of wrongful death and personal injury cases we take. If you are concerned about the circumstances under which your loved one passed away, contact our team for a case consultation. Let us give you the compassionate, expert support you need and deserve.
Determining Whether a Wrongful Death Claim Can Be Filed

To determine whether a wrongful death claim can be filed, it is necessary to establish that the death resulted from someone else's negligence or intentional wrongdoing. This can be challenging, and it is essential to consult with an experienced wrongful death attorney who can evaluate the specific circumstances of your case and guide you through the process.
Proving Liability in a Wrongful Death Case
Just because your loved one has passed away doesn't necessarily mean that a wrongful death situation is present. We need to prove several elements to win a wrongful death claim, and that requires conducting a full investigation. This is why you should always rely on a wrongful death lawyer in Utah to take your case.
To prove liability in a wrongful death case, several elements must be established:
The Defendant Owed the Decedent a Duty of Due Care
In wrongful death cases, we must prove that the defendant owed the deceased a duty of care. This duty varies depending on the specific relationship between the parties and the circumstances of the case.
For example, a driver has a duty to drive their vehicle safely and follow all traffic laws to avoid hurting pedestrians, passengers, and other drivers. Or, we will have to prove that the doctor owed your loved one a duty of care by scheduling an appointment.
The Defendant Breached the Duty of Care
Once a duty of care has been established, we must show that the defendant somehow broke or deviated from that duty somehow. A breach of duty can occur when the defendant's actions or inactions deviate from the standard of care expected under the circumstances.
For example, drivers are expected to follow the rules of the road. If they do not, it could lead to a potentially fatal accident.
The Victim's Death Resulted in Damages
It must be shown that the decedent's death resulted in damages, such as medical expenses, funeral costs, and loss of financial support for the surviving family members.
Of course, you have also suffered emotional damage, but in a court of law, we need to prove that you somehow suffered financial damages. We encourage you to keep an accurate record of any financial costs incurred due to the accident.
Causation Between the Victim's Death and the Breach of Duty
Finally, there must be a causal link between the defendant's breach of duty and the victim's death. This means the victim's death would not have occurred if the defendant had upheld their duty of care.
If we can prove that the defendant's breach of his duty directly led to your loved one's death and the damages you have suffered, we should have a successful wrongful death claim.
We understand this is a confusing process, and we will work closely with you, keeping you updated at every step.
People Who Can File a Utah Wrongful Death Lawsuit

Just because someone may have passed away under suspicious circumstances doesn't mean everyone can bring a wrongful death claim in court. Only certain people can bring a wrongful death claim for someone deceased.
Under Utah Law, the following parties are typically eligible to file a wrongful death lawsuit:
The decedent's surviving spouse;
The decedent's surviving adult children;
The decedent's surviving parents; and
The personal representative of the decedent's estate.
If none of these parties exist or choose to file a claim, other family members or dependents may be able to bring a wrongful death lawsuit. Because the legalities surrounding who can file a wrongful death claim can be confusing, you must work with a wrongful death attorney in Utah who can help you. We can look at your case and see if you are eligible to bring a potential wrongful death claim.
Wrongful Death Statute of Limitations in Utah
In Utah, the statute of limitations for bringing a wrongful death case is generally two years from when your loved one dies. Act promptly and consult with an experienced wrongful death attorney as soon as possible to ensure you do not miss this important deadline.
If you do not file a claim within the statute of limitations, you may lose your right to seek compensation.
Damages You May Receive Under a Wrongful Death Claim
Damages awarded in wrongful death claims are meant to compensate the surviving family members and the decedent's estate for their losses due to the death. Some common damages that may be awarded in a wrongful death claim include:
Cost of Medical Treatment That Was Administered Before the Family Member's Death

This may include hospital bills, medication, and other medical expenses incurred due to the injury leading to the decedent's death.
Loss of Financial Support
Surviving family members may be entitled to compensation for the loss of financial support the decedent would have provided had they lived. This may include the decedent's lost wages and the value of any benefits or other financial contributions they would have made to the family.
If you depended on your loved one to support you financially, we could seek damages for a loss of financial support.
Loss of Companionship

Surviving family members may also be entitled to damages for losing the decedent's love, companionship, guidance, and support. We can prove that your loved one was an important source of emotional support in your life, and we can use this fact to increase your compensation.
Beneficiaries of a Wrongful Death Claim
The beneficiaries of a wrongful death claim can vary depending on the specific circumstances of the case and the decedent's family structure. Some common beneficiaries include:
Immediate Family Members
This includes the decedent's spouse, children, and sometimes their parents. We can see if you are eligible.
Financial Dependents
Individuals financially dependent on the decedent at the time of their death, such as stepchildren, adopted children, or other relatives, may also be eligible to recover damages in a wrongful death claim.
Extended Family
In some cases, extended family members such as siblings, grandparents, or other relatives may be entitled to recover damages if they can demonstrate that they suffered a loss due to the decedent's death.
Wrongful Death Cases Our Utah Wrongful Death Law Firm Handles
At Good Guys Injury Law, our experienced Utah wrongful death attorneys handle a wide range of wrongful death cases, including those involving:
Motor vehicle accidents;
Medical malpractice;
Defective products;
Workplace accidents;
Premises liability; and
Nursing home abuse and neglect.
Regardless of the cause of your loved one's death, our compassionate and dedicated team will work tirelessly to ensure you receive the compensation and justice you deserve. If you have questions about a wrongful death case, we would be happy to provide you with a consultation.
Contact Our Experienced Team of Utah Wrongful Death Lawyers at Good Guys Injury Law Today

Has someone you love passed away due to the negligence or actions of someone else? Our experienced Utah wrongful death attorneys at Good Guys Injury Law are here to help. We understand the emotional and financial burden that a wrongful death can place on a family. We are committed to providing you with the support, guidance, and legal representation you need during this difficult time.
Contact us today to schedule a free, no-obligation consultation to discuss your case and learn more about how our dedicated team can help you pursue justice and compensation for your loss.
Wrongful Death Claims FAQs
Our Utah wrongful death attorneys want you to be familiar with wrongful death and the claims process. Here are answers to your wrongful death frequently asked questions from our Utah personal injury attorney.
According to Utah Code Section 78B-3-105, the spouse, children, parents (whether biological or adoptive), and dependent stepchildren of the decedent may file a wrongful death claim in Utah. Other surviving blood relatives may file in the unlikely event that there are no other living relatives. Each heir can have a claim, but only one lawsuit can be brought on behalf of all legal heirs.
With the exception of Personal Injury Protection (PIP) benefits, which can be claimed at any time, you must wait 45 days to claim relief for wrongful death. The statute of limitations for wrongful death in Utah is 2 years. However, there are times when extensions may be granted. An example is when the claimant is not of legal age when the death occurs or when it could not reasonably have been discovered that the death was caused by negligence until after the fact.
If you are not sure whether your case warrants an extension, you only have to gain by consulting with a personal injury attorney for wrongful death. It is also important to note that in some circumstances, like in cases involving government agencies or medical malpractice, a formal notice of claim must be filed with the proper agency within 1 year.
To start your claim, you notify your insurer. Then, gather all the necessary documentation — death certificate, any evidence of negligence, etc. In some cases, there may be a personal injury claim already in motion that you will be able to join. Otherwise, you and any other heirs can start the claim. The compensation award will be shared among the heirs, so filing jointly could be beneficial.
The damages you can be compensated for in wrongful death include medical costs, lost wages and/or earning capacity, pain and suffering, attorney fees, and any costs that are the direct consequence of the wrongful death. You may claim compensation for all categories that apply. The amount of a claim may vary.
Yes, heirs can file their wrongful death claims separately. But there is little reason for them to do so. The presumptive personal representative represents the interests of all the decedent's heirs. The allotment of damages is not likely to favor the person who files a separate claim. Even minor heirs who cannot legally file a claim may be included in joint claims. However, the court approves the distribution of proceeds and appoints a conservator for the minor heirs. No more than 50% of the award may be disseminated.
Depending on the situation, many parties can be held responsible for wrongful death. In a car accident, another driver may be held to account for reckless driving, the city for failure to maintain the road or an automobile manufacturer for a faulty product. In workplace accidents, an employer may be liable. Plus, your own insurance coverage may be sufficient to cover accident costs. Your Utah wrongful death lawyers can help you pursue all sources of compensation.
The compensation to be awarded in a wrongful death case varies from case to case. The family totals the allowable categories of losses, including final medical bills, lost financial and emotional contributions to the family, and pain and suffering. There may also be other factors that impact the value of the case, like the strength of the legal case and the nature of the wrongful conduct that resulted in the accident. The best way to find how much you can expect from a wrongful death claim is to talk to a personal injury attorney.
Whether the amount of compensation awarded for wrongful death is public record depends on how the claim is resolved. If the claim is settled or arbitrated, the amount awarded for compensation can remain private. However, if the case goes to court and is settled by litigation, it becomes part of the state record.
The claim survives if the wrongdoer dies during the course of a wrongful death claim. Personal representatives of either the wrongdoer or the victims may continue the case between estates. The victims of wrongful death are not deprived of compensation by the death of the at-fault party.
Yes, there are differences between murder and wrongful death, although the two sometimes share some common ground. A murder is a criminal act, whereas death caused by the negligence or wrongful acts of another is not necessarily motivated by malice or greed. Civil damages may be awarded to the heirs of the decedent in either case, although negligent acts do not usually call for criminal charges unless they amount to murder or manslaughter.
Contact Our Attorneys for Help With Your Wrongful Death Case
Wrongful death cases are complex. Settlement amounts are often high because of the extreme devastation that has occurred. Funeral expenses are high, laws surrounding these claims are complex, and reputations are on the line.
A wrongful death places more than a monetary burden on the shoulders of the defendant and their insurance provider. Cases can be high conflict. When conditions become truly distressing, an experienced legal representative is poised to negotiate directly with insurance companies. They can remove much of the hardship of a wrongful death case.