Accidents involving innocent cyclists in the State of Utah probably occur more often than many people know about in Utah. A bicycle accident can cause devastating injuries and even fatalities. A Utah bicycle accident attorney can help bicyclists receive compensation for injuries and other damages.
How Good Guys Injury Law Can Help With Your Bicycle Accident Claim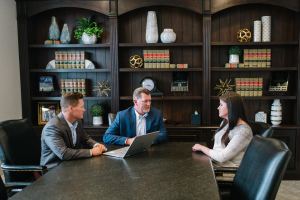 Our Utah bicycle accident attorneys know how a bicycle accident can affect bicyclist and their loved ones. We will work hard to get the best outcome for your case.
Initial Consultation and Case Evaluation 
We offer bicycle accident victims a free initial consultation. We listen to your story of what happened because, at Good Guys Injury Law, you are more than just another claim. We will perform a case evaluation to let you know how we can best handle your claim.
Gathering Evidence and Conducting Investigations 
Gathering evidence is particularly important for your bicycle accident claim. Bring any proof you have to your initial consultation so your bicycle accident lawyer can review it. The attorney will conduct an investigation, including compiling witness statements, determining the facts and evidence related to how and why the accident occurred, and who is responsible.
Negotiating With Insurance Companies 
Negotiating with insurance companies may seem like a lost cause for you. Do not worry about trying to convince the at-fault party's insurance company that the other person caused the bicycle accident. Let your experienced attorney deal with the insurance companies to try to negotiate a settlement that compensates you for your injuries and other damages.
Representing Clients in Settlement Negotiations 
Your personal injury attorney at Good Guys Injury Law knows how to represent their clients in settlement negotiations best. We know the traffic laws and how motor vehicle drivers may violate them, causing a bicycle accident through their negligence.
Our attorneys provide professional, dedicated representation and personalized service for every client.
Most cases are settled before they go to court. We strive to get the best possible settlement.
Trial Representation and Courtroom Advocacy 
Bicycle accidents happen, and although most claims are settled outside the courtroom, some cases go to court so the victim can get the compensation deserved because of someone else's negligence.
Suppose your bicycle accident lawyer cannot reach an appropriate settlement with the other party. In that case, we provide trial representation from our attorneys and courtroom advocacy throughout your case.
 Utah Bicycle Accident Statistics
The Utah Highway Safety Office at the Utah Department of Public Safety encourages cyclists and drivers of motor vehicles to share the road. Unfortunately, that does not always happen, and cyclists suffer injuries, sometimes life-threatening injuries or fatalities.
There were 418 bicycle-involved injuries, with 484 bicyclists having injuries in 2021 in Utah.
The Utah Department of Public Safety indicates that 2% of all fatal crashes in the State of Utah involve bicycles. In fact, in 2021, six people lost their lives in bike accidents.
Utah Bicycle Laws: An Overview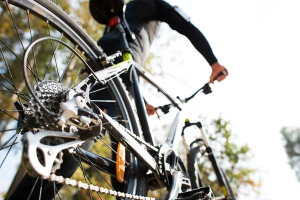 Every person riding a bicycle within the state is required to obey bicycle laws. Similarly, every motorist is required to comply with laws regarding cyclists. The Utah Code Chapter 6a, Part 11, states the bicycle laws for bicycle riders and motorists who are on the road with cyclists.
One important aspect of the laws governing cycling is that the state recognizes cyclists as having the same rights as other motorists. They also have the same responsibilities as other motorists. This means that just because you are riding a bicycle instead of in a car, you cannot disobey the rules of the road. You must stop at stop signs and red lights and obey all other traffic laws. You cannot cut cars or trucks off by suddenly swerving or turning in front of them. You cannot operate your bicycle under the influence of alcohol or any illicit substances.
Cyclists must travel at a safe speed under any circumstances and give pedestrians the right of way.
You must not race your bicycle on public roadways or transport more passengers than the bike was designed to carry.
Utah law requires that bicyclists travel in the same direction as the traffic and ride as far to the right as practical except under certain circumstances, such as when preparing to turn left or when passing a car traveling in the same direction.
Bicyclists must keep their bicycles in good working order with proper, required safety features, the same as all other vehicle drivers.
Most Common Causes of Bicycle Accidents in Utah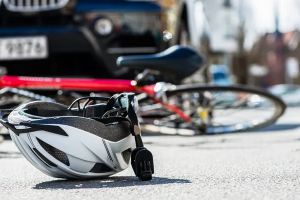 Bicyclists and drivers of cars and trucks that share the road must always practice safety. Some drivers cause Utah bicycle accidents because of their failure to recognize the rights of cyclists and because of reckless driving or some other form of negligence, causing injuries to bicyclists.
Common causes of bicycle accidents include:
Distracted driving; 
Failure to yield the right of way; 
Improper turns or improper lane changes; 
Disregarding traffic signs or signals; 
Impaired driving; and
The vehicle driver opens the door as a bicyclist passes.
Most Common Injuries in a Utah Bicycle Accident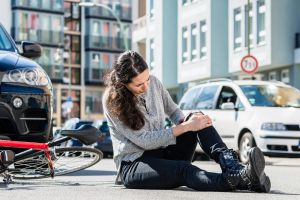 Many types of injuries can occur when a person is involved in a Utah bicycle accident. Some injuries may seem minor, while others are traumatic bicycle accident injuries.
Some common bicycle accident injuries that may occur in a Utah bicycle accident include:
Road rash; 
Fractures and broken bones; 
Sprains and strains; 
Head injuries, which may include concussions or traumatic brain injuries; and 
Other serious injuries or fatalities. 
When you are injured in a Utah bicycle accident, you need an experienced bicycle accident attorney who fights to get clients compensation for their injuries and other damages.
Contact Good Guys Injury Law to discuss your case with our bicycle accident attorneys.
What You Need To Do After a Bicycle Accident in Utah
Seeking medical attention is especially important after a bicycle accident in Utah. You may think you have a couple of bumps or bruises, but you could have serious or life-threatening injuries. You could have a concussion, other head trauma, internal bleeding, or organ damage.
Contact the police and file a police report immediately after the accident. Try to get as much information at the scene of the accident as you can do so. If you need immediate medical care, your attorney can get the information after you receive your medical care.
Do not make statements at the scene that may indicate fault. Some statements that you make can be taken out of context. Limit your comments. Do not talk to the at-fault party other than to gather identifying information and insurance information.
Contact a skilled bicycle accident attorney who will work to help you recover compensation for your physical injuries and if you or your loved one is suffering emotional distress loss.
Proving Liability in a Utah Bicycle Accident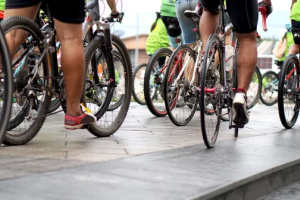 Proving liability is important for a successful claim against the other party. The at-fault party may deny liability, along with their insurance company.
Utah considers the fault of both parties since both motor vehicle drivers and bicycle riders must obey traffic and safety laws on Utah's roadways. Ensure that you share any information with your attorney proving that the other party is liable for the bicycle crash.
If you are found to be partly at fault, your compensation will be reduced by that amount. So, if you are found to be 10% at fault, the court will reduce the amount of your award by 10%.
Dealing With Insurance Companies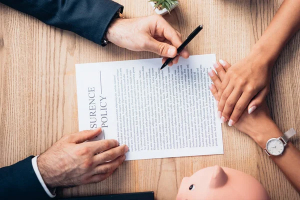 Dealing with insurance companies is something that our experienced, dedicated bicycle accident attorneys do every day. Let us focus on dealing with the insurance companies and working towards a successful claim while you focus on healing from your injuries.
The other side wants to reduce your claim or not pay any compensation.
Our law office has the skill to deal with insurance companies to ensure injured bicycle riders receive the compensation they deserve for their injuries through no fault.
Different Types of Bicycle Accident Compensation in Utah
People injured in bike crashes have several types of bicycle accident compensation that may be available to them in Utah.
Medical Expenses and Treatment Costs
Do not let the emergency room treatment be the end of your medical treatment after you are injured in a Utah bike accident. Utah law allows for people who are injured in a bicycle crash caused by someone else to recover compensation for their medical expenses and treatment. Get the medical care and treatment, such as physical therapy, that your doctor or other medical professional prescribes for you. Your Good Guys Bicycle Accident lawyer can help you get medical records. Give any medical bills that you receive to your attorney.
Lost Wages and Future Earning Capacity 
You can recover compensation for your lost wages after being injured in a bicycle accident. Lost wages include more than the wages that you lost on the day of the accident. It includes lost wages for time that you cannot work because of your injuries, wages for time lost when you have medical appointments, and other reasons for lost wages.
Your loss of future earning capacity includes lost wages if you must reduce your hours because you can no longer work full time if you can no longer perform the same type of work, or if you can no longer work at all because of the injuries you have because of the bicycle crash.
Pain and Suffering 
Pain and suffering fall into a type of compensation called non-economic compensation. You cannot put a dollar amount on your pain and suffering. You may suffer from intense pain because of your injuries and as you go through a therapy and rehabilitation program. Bicycle crash victims often have long-lasting pain, perhaps permanent pain from the extent of their injuries.
A loss of the ability to participate in activities that you once enjoyed, the inability to do things now that you used to be able to do, may cause suffering. You may experience a loss of consortium because your relationship with your family has changed because of the accident.
If a loved one dies because of bike crash injuries, you experience a loss of companionship.
Property Damage and Bike Replacement
The bicycle accident lawyers will include the cost of your property damage in your claim demanding compensation for your losses. The claim will also have a demand for the cost of bike replacement.
Contact Our Utah Bicycle Accident Lawyers at Good Guys Injury Law for a Free Consultation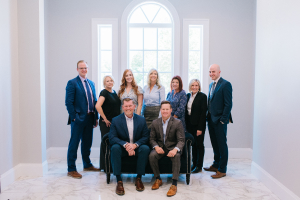 We know Utah bicycle laws and have experience dealing with insurance companies and the courts to seek compensation for clients injured in a bicycle accident because of the negligence of another party. Our personal injury lawyers at Good Guys Injury Law take the time to listen to you and explain the entire process involved in recovering compensation for you.
Contact us today to schedule your free consultation.
Frequently Asked Bicycle Accident Questions
How much is my bicycle accident case worth?
Every case is different, so putting an up-front dollar value on your case is impossible. Your attorney will build your case and work to get the best possible settlement for your specific case.
What is the statute of limitations for a bike accident claim in Utah?
The statute of limitations for a personal injury case in Utah, including a bicycle accident, is four years.
How does bicycle compensation work in Utah?
If you are found to be partially at fault, the percentage of responsibility that you share will cause a reduction in your compensation by that percentage amount. You must be less than 50% at fault to recover compensation.
Do cyclists have to wear a helmet?
Although there are no legal requirements for cyclists to wear helmets in Utah, the Utah Department of Public Safety explains the importance of wearing a helmet. The most common injury in bike accidents is a head injury, which is greatly reduced when bicyclists wear helmets.
Should I speak with insurance companies after a bicycle accident?
Do not speak to anyone from the insurance company after a bicycle accident. They will likely use any statements against you to reduce your compensation. Refer them to your attorney.
Is it possible for cyclists to ride side by side on the road?
Two cyclists may ride side by side in Utah at any given time. Cyclists must follow the single-track rules if traffic is restricted where they are riding.
What is the 3-foot guideline for passing cyclists by motorists?
Keep a distance of about three feet, even when passing. Passing is banned within 100 feet of an intersection or when a motorist is approaching a curve in a road that obstructs the motorist's view.
Do bicycle riders need to obey stop signs and stop lights?
Bicycle riders must obey all stop signs and stop lights, the same as other motorists. They must also follow all traffic light signals.