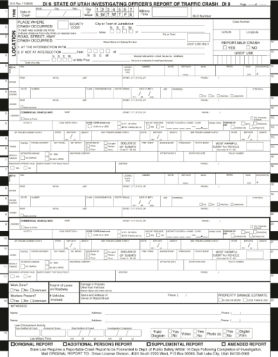 Car accidents can be a distressing experience. One crucial step in the aftermath is obtaining a police report. This report is an important document that can be crucial to your insurance claim or lawsuit. We aim to guide you through obtaining this report and explain how it can benefit your case.
Remember that you never need to go through this on your own. A car accident attorney from our team can represent your rights and help you pursue compensation. A crash report from the local law enforcement officer is often invaluable for our car accident lawyers.
What Is a Car Accident Police Report?
A car accident police report is a document prepared by a law enforcement officer who responds to the call of an accident. The report provides a detailed account of the accident, including the involved motor vehicles and parties, witnesses, vehicle damage, and the officer's observations and preliminary assessment of who might be at fault. This report often serves as vital evidence in insurance claims and legal proceedings related to the accident.
If you're interested in filing a claim, regardless of whether it is an insurance company or a lawsuit, you need to ensure you have evidence to support your account of the events. That is where a car accident police report can be helpful. Without this police report, it may be like the accident never happened, so count on our attorney to help you.
What's in a Car Accident Police Report?

A typical car accident police report contains the following:
The date, time, and location of the accident;
Personal details of the involved parties (names, addresses, etc.);
Insurance details of the involved parties;
Descriptions of the vehicles involved;
Description of the accident, including causes, contributing factors, and damage;
Injuries reported or observed;
Statements from drivers, passengers, and witnesses;
Any citations or violations of the law; and
Diagram of the accident scene (if applicable).
Keep in mind that every car accident differs, so every police report is going to be slightly different as well. You need a lawyer who can review the police report and make sure everything that should be present is there. We can also contact the office if something needs to be added.
When To Request a Police Report?
You should request a copy of the police report as soon as possible after the accident. Some jurisdictions make reports available within 3-5 business days, while others may take longer. The report can help you with your insurance claim and any potential legal issues.
There is a strong likelihood that the police officer will provide you with documentation of the accident immediately after it is finished. However, it may take some time to get the full report.
What Information Will You Need To Obtain an Accident Report?

To obtain an accident report, you will typically need the following:
The date of the accident;
The location of the accident;
The names of the involved parties; and
The accident report number (if known).
The accident report number is on the sheet of paper the policeman provided you at the collision scene. Make sure you hang on to this comment, as we may ask for it to make requesting your accident report easier.
What Other Evidence Can Be Useful to Your Case?
While the police report is a critical piece of evidence, other materials can also help strengthen your case:
Photos of the accident scene and vehicle damage;
Medical records related to injuries from the accident;
Witness statements; and
Surveillance video, if available.
This is another reason to consult a local car accident attorney after a motor vehicle collision. We can help you gather other pieces of evidence that could be beneficial to your case.
What if a Police Report for Your Accident Does Not Exist?

In certain instances, there might not be a police report, especially if the accident was minor and law enforcement wasn't called to the scene. In such a scenario, gathering as much evidence as possible, such as pictures, witness statements, and medical records, is essential.
A police report is often essential for filing an insurance claim or a personal injury lawsuit following a car crash. If there is no police report present, we can collaborate with you to build a strong case using other evidence.
How Long Do You Have To Obtain an Accident Report?
The timeframe to obtain an accident report varies by jurisdiction, but it's generally available within a few weeks of the accident. Requesting the report as soon as possible is advisable to expedite your claim or lawsuit.
Exact apartment policy regarding how long they hang on to accident reports can vary from jurisdiction to jurisdiction. Still, requesting an accident report sooner rather than later is always better.
Does It Cost Money To Obtain an Accident Report?

In most jurisdictions, there is a small fee for obtaining an official copy of the police report. The exact amount varies by location. We will let you know if there is a fee to collect an accident report in your specific jurisdiction.
How Do Insurance Companies Use Police Reports?
Insurance companies use police reports to determine liability and assess the claim. The report gives insurers an independent and authoritative account of the accident, which helps them decide who is at fault and how much should be paid. Filing an insurance claim without an accident report can be very difficult.
Are Police Reports Admissible in Court?

Yes, police reports are often used in court cases related to car accidents. While they are not the final word on fault, they are a credible source of information that courts consider.
What To Do if the Police Report Is Inaccurate?
If you believe the police report is inaccurate, you can:
Contact the law enforcement agency that issued the report: As soon as you notice inaccuracies in your police report, it's essential to contact the law enforcement agency that issued the report. This is typically the police department in the city or county where the accident occurred. Explain your concerns clearly and ask about their procedure for correcting errors in the report.
Provide any evidence that supports your claim of inaccuracy: Evidence is vital when it comes to disputing the details of a police report. This could include photographs, which can corroborate your account of the accident scene, vehicle damage, or injuries, and medical records, which may show a clear discrepancy about the extent or cause of your injuries. Surveillance video from surveillance cameras from nearby businesses or traffic cameras could also be invaluable.
Consult with an attorney for guidance: Disputing a police report can be a complicated and challenging process. An experienced car accident attorney can offer valuable advice and guidance and can help you gather and present evidence, communicate effectively with law enforcement and insurance companies, and protect your rights. An attorney's involvement can make a significant difference, especially when large amounts of compensation are at stake or when the report inaccuracies could wrongly assign you fault.
What Should You Do After a Police Report Is Made?

Once the police report is made, there are several steps you should follow to safeguard your rights and interests:
Review the Report: Check for inaccuracies or missing information. If there are any, follow the steps to correct them.
Contact Your Insurance Company: Inform your insurer about the accident and provide a copy of the police report.
Seek Medical Attention: If you haven't already, get a medical check-up to identify any injuries that may not be immediately apparent.
Consult with an Attorney: An experienced car accident attorney can carefully review your case, advise you on your rights, and guide you through the legal process.
Contact Our Car Accident Attorneys at Good Guys Injury Law Today To Help You With Your Car Accident Report

At Good Guys Injury Law, we understand how overwhelming a car accident can be. Our experienced attorneys are here to guide you through every step of the process, including obtaining and reviewing your police report. We strive to protect your rights, and you receive the compensation you deserve.
Contact us today for a free consultation.