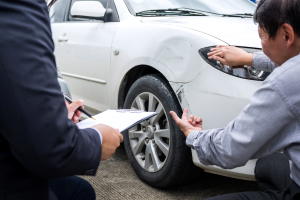 Each state has its laws for handling car accident insurance claims. All states have minimum car insurance requirements. Vehicle owners have the responsibility to follow the law in their state.
People need to understand their rights if they are involved in a car accident and need to file a personal injury claim with their own car insurance company.
There are just 14 states that are no-fault states when there is a car accident. Utah is among those states with a no-fault system. Read on to learn more.
Understanding How Fault Is Determined in a Utah Car Accident
The Utah Department of Health reveals that a crash occurs in Utah every eight minutes. A person is injured in a wreck every 20 minutes. A person dies every 33 hours in Utah because of car accidents.
Motor vehicle accidents are a leading cause of bodily injuries and are a leading cause of injury-related deaths. The Utah Department of Safety indicates that the 320 fatalities on Utah roads in 2021 were the highest since 2002. So, how is fault determined in a Utah car accident where someone has injuries or when there is a fatal accident?
Utah as a No-Fault Insurance State
The State of Utah requires that no-fault insurance be maintained on all passenger cars and trucks throughout the registration period of the vehicle if:
The owner or other operator of the vehicle is a resident. 
The owner or operator who is a non-resident of Utah operates a motor vehicle that has been physically present in the state for 90 days during the preceding 365 days. 
The non-resident owner must maintain no-fault insurance while the vehicle is in the state under the above circumstances. 
All motor vehicles except off-highway vehicles must maintain liability coverage during registration. 
Your car insurance coverage, or personal injury protection, pays for your medical treatment and medical bills for bodily injury, including severe injuries, if you are involved in an accident. The financial losses covered under the policy are also paid, such as lost wages, up to the policy limits.
The Utah no-fault car insurance system only applies to injuries resulting from auto accidents. It does not apply to vehicle damage claims.
Personal Injury Protection (PIP) Insurance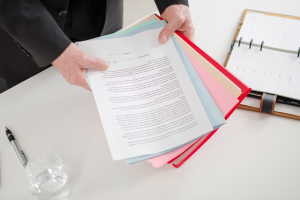 Personal injury protection insurance (PIP) covers medical bills when you are in an auto accident and may pay for some things not covered by your health insurance coverage.
The difference between bodily injury liability coverage and personal injury protection coverage is that PIP insurance covers you and other passengers in your vehicle. In contrast, liability insurance covers occupants of other cars if you are at fault in an auto collision.
Personal injury protection also helps to pay funeral costs regardless of who is the at-fault party in an auto accident.
Meeting the Statutory Threshold in Utah
A plaintiff must meet the statutory threshold of $3,000, just as the personal injury protection is the same amount, $3,000. That figure does not include property damage.
Plaintiffs have the right to file a lawsuit against an at-fault driver if the cost of medical expenses exceeds $3,000 or if disfigurement, disability, or a fatality occurred because of the accident.
Exceptions to PIP Coverage
The Utah State Legislature lists the lengthy limitations, exclusions, and conditions for personal injury protection in Section 309. One exception or exclusion is if you did not have the express permission of the vehicle's owner to drive it at the time of the car accident.
If you commit a felony and have a car wreck during the commission of the felony or while trying to leave the scene, it is an exception to the PIP coverage. Another example of an exclusion is if you attempted to intentionally cause harm or injury to another party while driving the vehicle.
Comparative Negligence Laws in Utah
Comparative negligence is a principle that courts use to reduce the compensation or damages a plaintiff receives based on the degree of fault each party to the lawsuit contributed to the car accident. The Utah Code 78B-5-818 Comparative Negligence section explains that the fault of a person seeking recovery does not necessarily bar recovery by that person.
Utah's modified comparative negligence laws mean that your share of liability in the car accident reduces your recovery or settlement. If the court finds that you share 15% of the responsibility for the auto crash, your settlement amount is reduced by 15%.
Remember, you must be less than 50% responsible for or at fault for the vehicle crash to receive reimbursement, or you are not eligible for any payments. At Good Guys Injury Law, we have the professional experience to help you understand comparative negligence and to help you receive the compensation due you because of an at-fault party's responsibility for the car accident.
4 Ways to Determine Fault After a Car Accident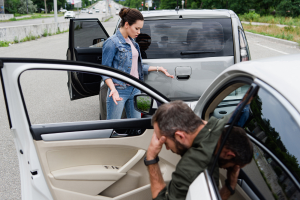 The Department of Public Safety revealed many aggressive and impaired driving incidents during 2021. Many of the incidents resulted in injuries or fatalities. The statistics include:
The Utah Highway Patrol (UHP) made over 123,000 traffic stops related to speeding. 
More than 4,700 citations were issued for drivers who were driving at 100mph+.
66% of suspected DUI suspects also had drugs on board while driving.
The average BAC for DUI arrests was over three times the legal limit. 
Admission of Fault
Some drivers admit fault after an accident, likely because they feel guilty or admit their fault accidentally through their statements.
Admitting fault or any degree of fault is likely to reduce or eliminate your chances of rightful compensation that you have come because of the accident.
You need an experienced attorney on your side to guide you through the process of filing a claim and receiving just compensation. Good Guys Injury Law is here for you.
Police Report
Utah law requires contacting the nearest law enforcement agency immediately after an auto accident. Do not leave the scene and call later.
The police assess the accident scene and determine whether anyone needs immediate medical attention. Then the police will consider each vehicle involved and record the damage.
Officers talk to the drivers, the passengers, and witnesses. They take statements and enter them into their report.
The police report is an essential document for helping to prove your claim. Ask for the police report number and the responding officers' badge numbers.
Physical Evidence
Take pictures of evidence at the scene. Photos may help to bolster your legal claim against another driver. Four pieces of evidence are essential to an auto accident claim. They include:
Skid marks. Reveal how a car swerved before or after an auto collision. Skid marks also help to determine the vehicle's speed.
Dings or scratches, or dents on the surface of the car. Reveal where the vehicle struck during the crash.
Broken glass fragments. The glass from broken side windows and windshields can often help to determine fault.
Paint transfers. Paint transfers help to show motion and to establish the collision spots.
Insurance Companies
It is up to your insurance company to decide the outcome once you file an insurance claim. Your insurance provider will seek a payout from the other driver if the other driver is at fault.
Expect the other insurance company to offer an acceptable payout only if your provider asks. Some may settle quickly, while others try to reduce the payout or keep from paying anything.
An attorney with experience dealing with insurance providers can help you receive the compensation you rightfully deserve from the accident.
Filing a Lawsuit for a Utah Car Accident
Filing a lawsuit when you are involved in a Utah car accident is not a straightforward process. It first requires that you exhaust the personal injury protection coverage, incur more than $3,000 or more in medical expenses, or qualify as having severe injuries as the driver.
The plaintiff is responsible for proving that the other driver was negligent in causing the accident, the extent of the plaintiff's injuries, and that the other driver caused those injuries.
The Utah Threshold for Filing Suit Against the At-Fault Driver
A case against the at-fault driver must meet all threshold requirements. The first requirement for pursuing a liability claim in Utah is that the injured party must have a minimum of $3,000 in medical expenses resulting from the car crash or meet the qualifications for having severe injuries.
Utah defines "severe" injuries as severe bone fractures, permanent disability or permanent impairment, disfigurement or dismemberment, or death.
You can file a claim to hold the liable driver responsible through a third-party insurance claim or a personal injury lawsuit. You can recover compensation for pain and suffering and other non-monetary damages.
Compensation for a Car Accident Claim in Utah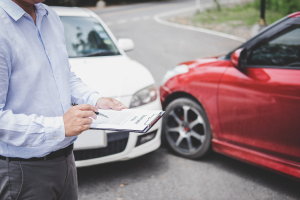 Utah is a comparative negligence law state, with a 50% limit for plaintiff liability. The liability of a plaintiff cannot exceed the liability of the defendant. A plaintiff partially at fault for the accident can still recover damages if the plaintiff's liability does not exceed 50%.
The plaintiff loses the amount of recovery reduced by the plaintiff's liability.
Compensatory Damages
Compensatory damages are the damages the court awards on a claim based on the plaintiff's actual losses.
Compensatory damages awards do not include any recovery for punitive damages.
Non-compensatory Damages
The Law Insider describes non-compensatory damages as all punitive damages awarded by a court. Punitive and presumptive damages are examples of non-compensatory damages.
Talk to Our Car Accident Lawyers at Good Guys Injury Law for an Initial Consultation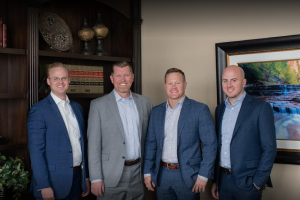 Trust the law firm that can handle everything for you. Good Guys Injury Law has a top team of experienced attorneys that have proven results in helping injury victims. We treat every client with dignity and respect. We let you focus on getting better while we handle the legal paperwork and gather evidence and documents.
Do not talk to the other party's insurance company. We will take care of that for you. Our motto is we see more than just your accident. We see you. Contact us today to learn how Good Guys Injury Law can help you after a car accident.