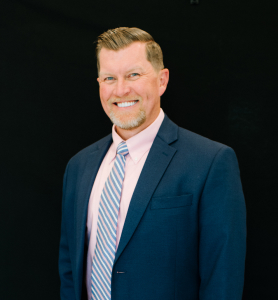 People injured in a truck accident may have serious injuries or lose their lives when the other driver is negligent and causes the accident. Having a Utah truck accident attorney fight for you is important to get the compensation you deserve from the responsible party.
Good Guys Injury Law truck accident lawyers offer a free case evaluation to discuss getting fair compensation for you.
Our Draper Truck Accident Attorneys Can Handle the Hassle of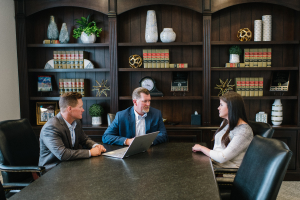 The last thing that truck accident victims who suffered serious injuries or the family members of a truck accident victim who lost their life want to do is deal with the hassle of a legal case to recover compensation from the at-fault party. Let a Draper truck accident lawyer at Good Guys Injury Law pursue compensation so that you can focus on healing from the accident.
A. Legal Consultation and Case Evaluation 
When seeking damages from a truck driver who causes an accident, the first step is to have a legal consultation with an experienced truck accident attorney.
The attorney evaluates your claim and lets you know if you are likely to have a personal injury claim. You learn the steps the lawyer will take during the case.
B. Gathering Evidence and Conducting Investigations 
Collecting evidence is an important step that truck accident lawyers take when representing personal injury victims involved in a truck accident. It is helpful for people involved in a crash with a truck to take photos at the scene and gather witness statements from witnesses if they can do so.
Do you have documentation that may be helpful in your Draper, Utah, truck crash? Let your personal injury attorney know about the evidence that you have when you come in for your consultation. Preserving evidence is important for your claim to recover compensation.
Your truck accident lawyer conducts an investigation and gathers evidence to help support your truck accident claim. The attorney may talk to witnesses, obtain the police report or other reports, and take steps to gather any other evidence that the attorney considers relevant to your trucking accident case.
C. Negotiating with Insurance Companies and Other Parties 
Engaging in negotiations with insurance companies and other parties that are important to your specific case is a skill that requires an experienced truck accident attorney to get the best results for a personal injury claim. Insurance companies often use tactics such as contacting victims of truck crashes to minimize damages or to try to get out of paying a fair settlement in the case. An attorney for the truck driver or the trucking company may deny liability on behalf of their client, the at-fault party.
Your skilled truck accident lawyer at Good Guys Injury Law has the experience and legal knowledge that it takes to seek the maximum compensation possible. Our Draper truck accident lawyers understand when clients suffer severe injuries or the demise of a loved one because of the negligence of a truck driver, trucking company, or another responsible party.
Our lawyers hold all parties responsible when negotiating with insurance companies or other parties and seek to secure the maximum amount of indemnity that you deserve for your injuries.
 D. Filing Lawsuits and Representing Clients in Court 
Filing lawsuits on your own and representing yourself in court is not advisable if you want to have the best opportunity to get compensation for your medical bills, lost wages, property damage, and other reparation that you may be entitled to because of the serious accident with a semi-truck or another type of truck.
The average person is no match for large insurance companies and law firms in court. You need a skilled attorney who knows how to litigate a case if it does go to court. Do not be disheartened if your attorney informs you that the best option is to negotiate a settlement. The majority of cases are settled without going to court.
If the attorney representing you is not able to negotiate a settlement, then you have an attorney on your side who will file your lawsuit and represent you in court.
What You Need To Know About Utah Trucking Laws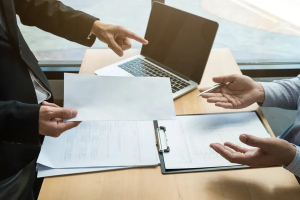 The trucking laws in the State of Utah are designed so that truck drivers and trucking companies are required to operate their big rigs and other large trucks in a safe manner. Those laws also provide legal remedies for the victims of truck accidents caused by negligent truck drivers and companies.
The Federal Motor Carrier Safety Regulations provide the general regulations for the safe operation of commercial motor vehicles. The regulations and penalties are applicable "to all employers, employees, and commercial motor vehicles that transport property or passengers in interstate commerce." The rules also apply specifically to "every person who operates a commercial motor vehicle," as defined in the regulations, and to everyone who is engaged in "interstate or intrastate commerce and to all employers of such persons."
These regulations allow for an attorney and the courts to hold a trucking company, not just the truck driver, liable in trucking accident cases.
The Federal Motor Carrier Safety Administration obliges drivers and companies to maintain records for designated periods. They must keep dispatch records and certain other records for three years and must keep their service records for six months.
How do these federal regulations apply to Utah trucking laws? Truck drivers and trucking companies are compelled to comply with all federal records while operating tractor-trailers or any other large trucks within the state. The Utah Code for Motor Carriers provides regulations that all truck drivers and trucking companies should abide by if they operate semi-truck or other larger trucks in Utah. It governs the general provisions, the enforcement of federal safety regulations, liability, information for port of entry, and the penalties, fines, and fees for failure to comply with the state regulations or negligence regarding the safe operation of trucks being driven in the State of Utah.
So, what happens after innocent people in Utah sustain injuries in truck accidents in Utah? You need a reputable, skilled Utah truck accident attorney to get the compensation you deserve from the at-fault truck driver and the trucking company, and any other responsible parties in the trucking industry.
Utah Truck Accident Statistics
Many people are likely to be surprised if they learn the Utah truck accident statistics. The Federal Motor Carrier Safety Administration provides national data and state truck accident statistics, including the statistics for Utah truck crashes.
The shocking statistics for 2022 reveal that there were 1,019 large trucks involved in trucking accidents, which resulted in 463 injuries and 41 fatalities. Another shocking result is that in the month of January 2023, there were 130 Utah truck accidents, with 49 injuries and four fatalities.
Contact our Utah truck accident lawyers if you or your loved one is among the Utah semi truck accident statistics or if you were involved in another truck accident.
Common Causes of Truck Accidents in Draper, UT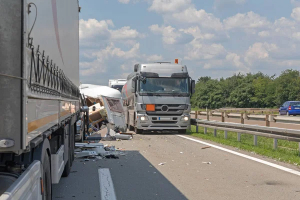 The many causes of semi truck accidents and crashes involving other trucks in Utah often result in victims seeking legal counsel from a Draper truck accident lawyer.
Driver Error
Sources indicate that driver error is the most common cause of fatal crashes involving large trucks, such as tractor-trailer accidents. Although many cases involved drivers of passenger vehicles committing driver errors, many accident scene investigations revealed that the truck driver committed acts of driver error.
Careless driving, reckless driving, or distracted driving may lead to crashes because of driver error.
Truck Part Failure
Truck drivers may have an accident because of truck part failure. Although truckers and trucking companies are responsible for the safe operation of commercial motor vehicles, truck manufacturers, parts suppliers, and repair companies have a responsibility.
A truck that has flaws in its manufacture or design flaws, suppliers of replacement parts who use faulty parts, and trucking repair employees who fail to repair the truck safely are often held liable for truck part failure when there is a truck crash because of truck part failure.
Speeding
Speeding is another common cause of Utah truck crashes that may result in injuries or deaths on Utah roadways. Many Utah residents or visitors to the state may remember a time when a semi-truck roared down the highway, passing them because they were speeding well above the posted speed limit.
Truck drivers that engage in speeding risk losing control of the truck because it takes longer for a huge truck that is much heavier than a car to stop or slow down. A commercial vehicle driver in Draper, Utah, may cause injuries or deaths to people because of their speeding and subsequent crash.
Driver Fatigue
Some drivers of semis and tractor-trailers continue driving even when they experience fatigue. There are laws regarding how long a truck driver is permitted to drive before taking a mandatory break or rest period. Drivers who ignore these regulations or are simply tired pose a risk to themselves and drivers and passengers of other vehicles.
Drunk Driving
Drivers of big rigs who engage in drunk driving are another one of the most common causes of truck accidents. Truck drivers who drive under the influence risk crashing with passenger vehicles or other trucks.
Most Common Injuries in Draper Truck Accidents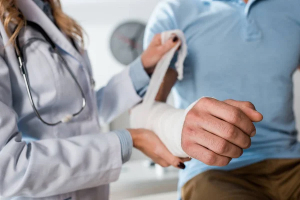 Several types of injuries occur to victims who are injured in an accident with a large truck. Injuries may be severe or fatal, which is why you should contact a Draper truck accident lawyer about recovering damages for your case.
Soft Tissue Injuries
Soft tissue injuries may not sound serious, but they can result in significant pain and time off from work, resulting in lost wages. Cuts may become infected, and bruises may be more serious than they look, so always pursue medical attention, even if your injuries seem minor to you.
Fractures and Broken Bones 
A hairline fracture may not seem serious, but it can result in more severe injuries, such as causing bleeding, a more serious fracture, or disability or disfigurement.
Fractures and broken bones often require surgery and a long recovery period. Speak to your truck accident attorney if you were diagnosed with a fracture and need to have surgery.
Spinal Injuries 
Spinal injuries are serious injuries that may require surgery and a long recovery period. A spine injury may result in disability or paralysis.
Traumatic Brain Injuries
Traumatic brain injuries can cause serious complications if not treated right away. A headache after a truck crash may be a brain bleed, swelling, or serious concussion. A traumatic brain injury can be fatal.
Crush Injuries 
People may experience crush injuries if they become pinned or trapped in their vehicle or between their vehicle and a truck or an object. The crushing injury can result in perforated organs, internal bleeding, other serious injuries, or death.
Things You Need To Do Right After Your Draper Truck Accident
Call 911 immediately to request first responders' assistance at the accident scene and aid any injured individuals. If you're injured, stay in your vehicle until help arrives. If you're unharmed, try to move your car to a safe location away from traffic, if feasible. If it's safe, check on other drivers and passengers involved in the collision to offer assistance.
Exchange insurance and driver's license information with the other drivers involved in the crash. Provide the insurance company name and policy number, but avoid sharing details about your own insurance coverage, such as types and amounts of protection.
Collect contact information from witnesses, as their statements can be vital in substantiating your compensation claim. Witnesses may leave once they've ensured everyone involved is okay. Request their names and contact details (phone numbers and/or email addresses) as soon as possible.
It's essential to gather all necessary evidence following a truck accident. Take immediate action to document how the crash happened, including the accident location (cross streets, address, or highway mile marker). Capture photos of the vehicles involved, specifically focusing on any damages.
Contact our dedicated truck accident lawyers for a free consultation.
Proving Liability and Negligence in Truck Accident Cases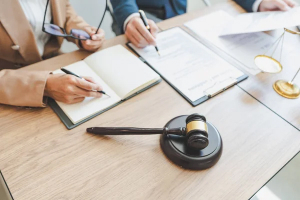 Your attorney will deal with proving liability and negligence in your personal injury case. A truck crash requires complex steps to establish liability and to prove negligence. Your lawyer must deal with not only the truck driver and trucking company but often the manufacturer, shipping company, insurance company, and other parties.
Truck Accident Statute of Limitations in Draper, UT
The statute of limitations sets a time restriction for initiating a lawsuit. It is crucial to file a lawsuit within a specific timeframe. Generally, when the statute of limitations expires, the legal claim becomes invalid.
Utah has a four-year statute of limitations for personal injury claims. It starts with the date of the accident, not the date that you contact us at Good Guys Injury Law to pursue fair compensation.
Types of Compensation Available for Your Draper Truck Accident
Compensation includes economic damages, non-economic damages, and punitive damages.
Economic Damages
Economic damages pertain to tangible losses suffered or anticipated by a victim as a result of their accident. These damages are typically more concrete as they can be readily documented and easily calculated.
Among economic damages, medical expenses often constitute a significant portion. This includes the costs associated with the initial hospital stay and any follow-up treatments required for the injuries sustained.
Lost wages represent another common form of economic damage. While some victims may experience a temporary absence from work for a few days or weeks, others may face prolonged periods of inability to return to their professions, lasting months or even years. Some may even face permanent disability, preventing them from working again.
Property damage is yet another type of economic damage. In many motor vehicle accident cases, victims have suffered significant damage to their vehicles as a result of the crash.
Non-Economic Damages
Non-economic damages are more subjective compared to economic damages. They encompass various types of harm that cannot be quantified with a receipt or other objective documentation.
Typical non-economic damages include pain and suffering, loss of consortium, and emotional distress. Disfigurement or disability also falls under the category of non-economic damages.
Unlike economic damages that aim to restore a person to their pre-accident condition, non-economic damages serve as compensation for the pain, emotional distress, suffering, and similar issues experienced by an injured individual as a result of an accident.
Punitive Damages
In addition to compensatory damages, punitive damages are the financial restitution that a defendant, found guilty of wrongdoing or offense, must pay. They are granted when compensatory damages, the monetary compensation provided to the injured party, are deemed inadequate.
Punitive damages extend beyond mere compensation for the harmed party. They are specifically intended to punish defendants whose behavior is deemed highly negligent or intentional. Punitive damages, also known as exemplary damages, serve as a deterrent by setting an example for others and discouraging them from engaging in similar actions.
Schedule a Case Consultation With Our Draper Truck Accident Lawyer at Good Guys Injury Law
We offer a free consultation for clients injured in truck accidents. We provide clients with personalized attention and experienced legal representation. Contact us today to schedule your consultation.