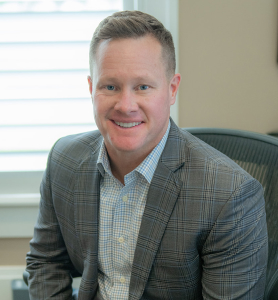 More people ride motorcycles in Utah every year. Motorcyclists who follow traffic laws may become personal injury statistics when someone disobeys traffic laws or signals. A victim of a motorcycle accident caused by someone else needs an experienced Utah motorcycle accident attorney.
Secure Legal Representation from a Provo Motorcycle Accident Lawyer for Your Case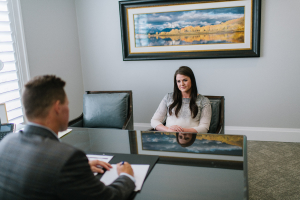 Do you believe that you will get more money after a motorcycle crash in Provo if you represent yourself and skip consulting a motorcycle accident attorney? It may be one of the biggest mistakes you ever make if you suffer motorcycle accident injuries caused by someone else and do not speak with an experienced Utah motorcycle accident attorney.
Secure legal representation from Good Guys Injury Law, where we know how devastating motorcycle accident injuries can be for you and your family. Our attorneys understand that you may have serious injuries and just want compensation for your injuries. We provide personalized representation for every client and work hard to recover fair compensation for every personal injury claim.
Provo Motorcycle Accident Laws and Regulations
Motorcyclists may become involved in a motorcycle accident when the driver of a car or truck does not honor the safety laws and rules of the road. Motorcycle riders have a greater risk of injuries or death in a traffic crash because of the size of a car or truck relative to the size of a motorcycle.
Negligent drivers are not always the at-fault party when a motorcyclist in Provo has an accident or suffers other injuries. Defective motorcycles, defective parts, or other safety issues may lead to a Provo motorcyclist getting into an accident or suffering other injuries. The manufacturer of the motorcycle, parts manufacturers or distributors, or other parties may be held liable for your injuries.
Utah laws require that other motorists respect the traffic laws for a motorcyclist the same as they would for another car driver or truck driver. Motorcycle riders must also obey the laws in Provo when riding their motorcycle. The Utah Department of Public Safety provides riding tips for Utah's motorcycle riders to help keep them safe on Utah roads.
Sometimes, no matter how safe you are, accidents occur because of another party's negligence or willful misconduct. If this happens to you, trust in the expertise of the Good Guys Injury Law to get the compensation you deserve in a motorcycle accident claim.
Causes of Motorcycle Accidents in Provo, UT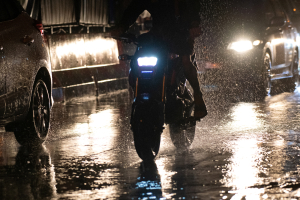 Several common causes of Provo motorcycle accidents may result in severe injuries or the wrongful death of a motorcyclist.
Error With the Driver
Numerous motorcycle accidents happen when passenger car drivers cut in front of motorcycles and collide with them while changing lanes or when the motorcyclist stops at a stoplight.
Common reasons that drivers of passenger vehicles may not see a motorcycle include speeding, distracted driving, lack of attention, or blind spot. Driving under the influence may also be a contributing factor for drivers who cause motorcycle accidents in Provo, UT.
Equipment With Flaws
Motorcycle parts defects that go unnoticed by the manufacturer may lead to an accident that results in a motorcycle owner contacting a personal injury lawyer. The motorcyclist may seek financial compensation.
Hazardous Road Situation
A motorcycle wreck may occur because of a hazardous road situation. Motorcycles are much more likely than other vehicles to lose control when hitting a pothole or debris that is in the road.
You may be able to take legal action and get a settlement offer from Utah's government officials, including the entity in charge of road maintenance in the Provo area.
Common Injuries Resulting from Motorcycle Accidents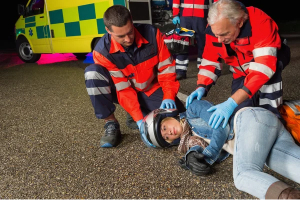 The Utah Highway Safety Office reveals that 6,675 Utah motorcycle drivers were involved in a crash between 2017 and 2022.
Motorcycle drivers and passengers may have a variety of injuries when a motorcycle collision occurs on Provo roadways. Some common injuries include:
Road rash or lacerations;
Broken bones;
Internal bleeding and other internal injuries; 
Spinal injuries;
Head trauma or traumatic brain injury; 
Paralysis; 
Permanent scarring or deformity; and
Death.
Utah Highway Safety Office statistics show that 240 motorcycle drivers lost their lives between 2017 and 2022, resulting in 22.54 percent of all driver fatalities during the same period.
The Good Guys Injury Law motorcycle accident attorneys understand your injuries and the wrongful death of a family member because of a motorcycle collision. Reach out to us to schedule your free initial consultation.
The Legal Process for Provo Motorcycle Accidents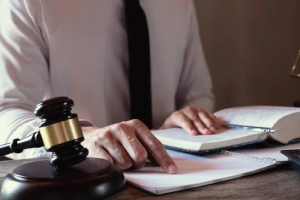 The legal process after a motorcycle accident starts with the injured party contacting an experienced personal injury attorney representing injured motorcyclists. The attorney asks the motorcyclist to describe the circumstances surrounding the accident. You need to bring any documentation or evidence to the consultation and case evaluation.
Your lawyer conducts an investigation and gathers evidence to build your case. Taking witness statements, getting the police report, talking to medical professionals, and visiting the accident scene are examples of how your attorney follows the legal process for building your claim to demand compensation.
Building a compelling case may include calling upon accident reconstruction experts or other specialists with specialized skills to help your claim for compensation.
Negotiations are important because most cases do not go to court. The parties reach a fair settlement to compensate you for your losses. Our motorcycle accident lawyer may not be able to get a fair settlement and will file a personal injury case with the courts for you to recover compensation.
What To Do Right After Your Provo Motorcycle Accident
The things that you do right after your Provo motorcycle accident can affect how much compensation you get for your settlement and may have a bearing on whether you recover damages at all.
Stay at the accident scene unless medics take you to the hospital. If it is safe for you to do so, get your motorcycle out of traffic.
Call 911 if you or anyone else has injuries. Call the police station to report the accident if you do not have obvious injuries.
Seek medical treatment as promptly as possible after a motorcycle accident. You may not realize that you have serious injuries. Another reason to go to the emergency room or your personal physician immediately is that you have documentation of your injuries.
Exchange information with the other parties. Make sure that you get their insurance information.
Collect evidence at the scene if you can, or have someone do it for you. 
Capture photographs of the accident scene, your motorcycle, any injuries, and other evidence. 
Do not admit fault to anyone. What you say can be used against you. Do not apologize or admit fault. Do not say that you never saw the other driver. You can hurt your case if you admit fault.
Contact the legal team at Good Guys Injury Law, where our skilled motorcycle accident attorneys protect your rights and work towards getting the best possible outcome for your personal injury claim.
Understanding Liability and Negligence in Motorcycle Accidents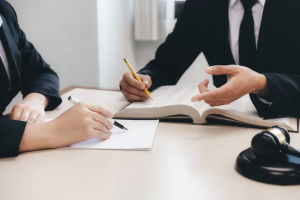 Your Provo motorcycle accident attorney needs to show that another party or parties bear responsibility for your injuries. Did your motorcycle fail, or did a part malfunction? The motorcycle manufacturer, the company that made the defective part, the company that installed the part, or even the company that sold you your motorcycle may be liable parties.
Proving negligence is important when you are seeking compensation. Drivers who disobey traffic laws or signals put motorcyclists at risk in Provo. Reckless drivers or drivers who commit negligent acts such as opening a car door without checking are examples of when the other party may be found negligent in a personal injury claim.
Statute of Limitations in Provo, UT
The statute of limitations for motorcycle accidents and the majority of other personal injury cases is four years from the date of the injury. Utah's statute of limitations for wrongful death is two years.
Damages That Provo Motorcycle Accident Victims Can Recover
Damages awarded in motorcycle accidents vary from one case to another motorcycle injury claim.
Economic Damages
The economic damages you recover compensate you for your injuries and other damages. Economic damages include emergency room treatment, hospitalization, and other medical bills. It includes lost wages, loss of earning capacity, and property damages. Property damages include your motorcycle and equipment, such as an entertainment system and your personal belongings.
Non-Economic Damages
Non-economic damages are damages without a specific dollar amount. It also comprises compensation for pain and suffering, loss of enjoyment of hobbies or other activities, scarring or disfigurement, and loss of consortium.
Punitive Damages
Punitive damages do not indemnify you for your motorcycle accident injuries. The punitive damages punish the defendant for their negligent acts or reckless or intentional acts that contributed to the motorcycle crash.
Punitive damages also act to deter the defendant or others from committing similar future acts.
Contact Our Skilled Provo Motorcycle Accident Lawyer at Good Guys Injury Law Today for a Free Consultation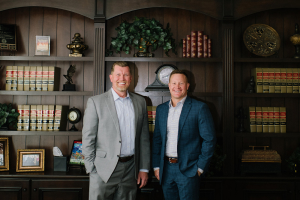 You need a skilled, experienced lawyer to stand up for your rights to receive the compensation you deserve after someone else caused your injuries in a motorcycle accident. Our lawyers know Utah law and how to seek compensation for your injuries. We provide compassionate and personalized representation.
Do not speak to the insurance companies. They want to minimize your damages to pay you very little or no damages after your accident. Contact us today to schedule a free consultation with our skilled motorcycle accident lawyer.